With tech leading all other sectors in 2023, you may be wondering which is the best way to gain some income from this sector, which doesn't pay attractive dividends.
As it happens, many investors use certain business development companies to gain high-yielding exposure to tech. Horizon Technology Finance Corp. (NASDAQ:HRZN) is a BDC known for its focus on tech and life science firms.
Company Profile:
Headquartered in Farmington, Connecticut, Horizon Technology Finance Corp. is managed by its advisor Horizon Technology Finance Management LLC.

Horizon is a leading venture lending platform that provides structured debt products to life science and technology companies. Since 2004, Horizon has directly originated and invested more than $3 billion in venture loans to more than 315 growing companies. (HRZN site)
Venture debt represents 10-20% of the total venture capital invested. Over the four quarters ending at 3/31/23, there was ~$200B invested in Venture Capital: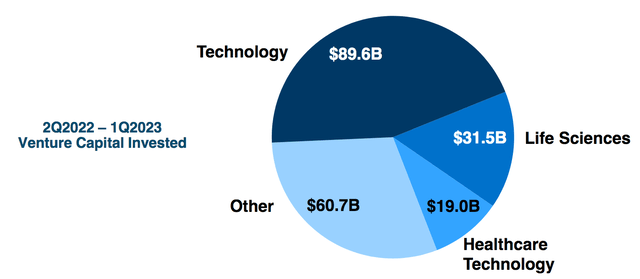 HRZN's 20% loan to value ratio is much lower than a typical middle market loan, which is ~80%. Its loan terms also include priority repayment terms. Also shielding HRZN from heavy losses is the fact that its holdings have co-sponsors that lend support in challenging periods, in order to not lose their equity in these companies. HRZN has an effective annual net loss rate of 6.0bps or 0.06%.
Holdings:
HRZN's industry exposures are split between life science, 44%; tech, 39%; sustainability 12%; and healthcare info services, 5%.
In HRZN's sub-industry exposure, biotech is the largest, at 27%; followed by software, at 20%; medical devices, at 18%; consumer tech, 15%; other sustainability, at 12%, comprising 92% of its portfolio.
HRZN generally loans to companies in the early (33%) and expansion (63%) stages of their growth. As of 3/31/23, its portfolio totaled $715M, a slight reduction from year-end 2022, but an increase of 39% vs. Q1 '22.
As of March 31, 2023, HRZN held warrant and equity positions in 99 portfolio companies with a fair value of $30M. Its debt investments are typically secured by first liens or first liens behind a secured revolving line of credit, or collectively "Senior Term Loans."
Company Ratings:
As with other BDCs, management rates portfolio companies quarterly.
"As of March 31, 2023 and December 31, 2022, Horizon's loan portfolio had a weighted average credit rating of 3.0 and 3.1, respectively, with 4 being the highest credit quality rating and 3 being the rating for a standard level of risk. A rating of 2 represents an increased level of risk and, while no loss is currently anticipated for a 2-rated loan, there is potential for future loss of principal. A rating of 1 represents deteriorating credit quality and high degree of risk of loss of principal."
The biggest changes from Q4 '22 to Q1 '23 were tier 3 assets dropping from $557M, 81.2%, to $483M, 70.6%, and tier 2 assets rising from $26.8M, 3.9%, to $87.21M, 12.7%. As of March 31, 2023, 86% of HRZN's debt portfolio consisted of 3- and 4- rated debt investments, down from 95% at 12/31/22:
In Q1 '23, the mini banking crisis helped to create a significant reduction in venture capital investment, a closed IPO market and a weak M&A market, which made it harder for venture-backed companies to raise debt or equity capital.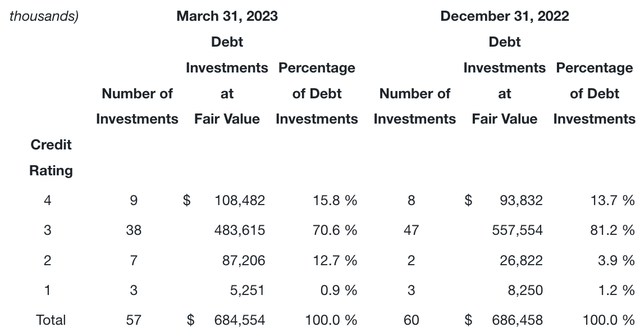 Earnings:
Q2 '23: This week HRZN issued an update on Q2 '23 activity. "As of June 30, 2023, HRZN's unfunded loan approvals and commitments ("Committed Backlog") were $159.4M to 19 companies. This compares to a Committed Backlog of $186.6 million to 19 companies at HRZN as of March 31, 2023."
During the quarter we received $28 million in loan payoffs and partial paydowns along with proceeds from warrant redemptions and earnouts, providing us with accelerated income." (HRZN site)
Q1 '23: Growth was very strong vs. Q1 '22, with total investment income up 97%, NII up 127%, and NII/share up 77%, even with a 29% rise in the share count vs. Q1 '22. Interest expense jumped 108%.
2022: Total investment income rose 32%, with NII rising 28%. NII/share rose 3.55%, due to a 23.5% rise in the share count. Interest expense rose 59.6%.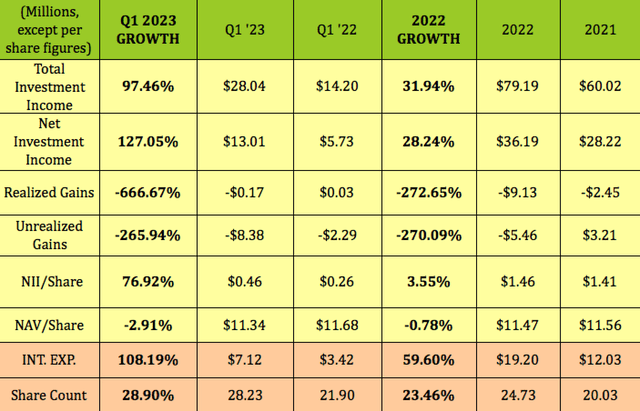 New Business:
In Q1 '23, HRZN funded eight transactions totaling $40M, including a $20M debt investment to a new tech portfolio company focused on education. It had four loan prepayments, and one partial pay down during the quarter, totaling $32M. HRZN ended Q1 '23 with a committed and approved backlog of $187M.
In Q2 '23, HRZN closed new loan commitments totaling $73.6M to six companies.
Dividends:
Management declared a steady monthly $.11/share distribution for June, July and August. At its 7/13/23 intraday price of $12.99, HRZN yielded 10.16%. This isn't a big dividend growth stock – its five-year dividend growth rate is 0.99%.

One of HRZN's strengths is its strong distribution coverage, which has run between 1.17X in Q2 '22 to 1.39X in Q1 '23, with a 1.29X trailing average. There was $.81/share in UNII as of 3/31/23.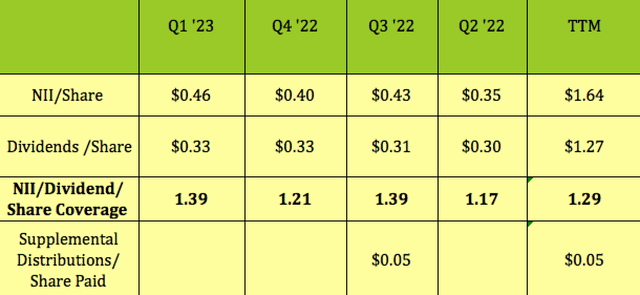 Profitability and Leverage:
HRZN's ROA and ROE have declined since Q4 '21, but still remain higher than BDC averages. Its EBIT margin has steadily improved, whereas its debt/NAV leverage has risen to 1.37X, vs. 1.59X. However, that 1.37X debt figure is still below the 1.59X BDC industry average.
In the BDC industry, higher debt leverage isn't necessarily a negative attribute – since BDC's must pay out 90% of their net income to shareholders, they need capital in order to create more income.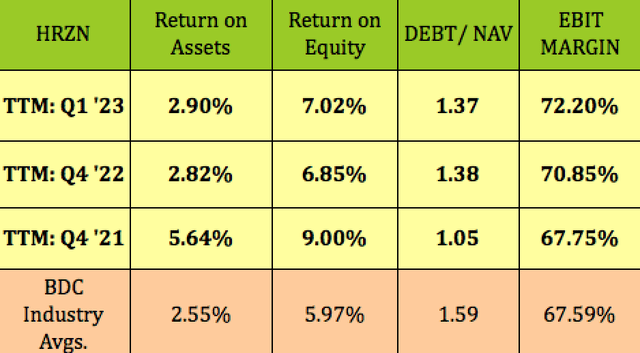 HRZN finished Q1 '23 with an assets/debt ratio of 1.77X, vs. 2X as of 12/31/21, and EBIT/Interest coverage of 2.93X, vs. 3.38X as of 12/31/21:

Debt and Liquidity:
HRZN finished Q1 '23 with liquidity of $176.7M, with no debt maturities due until 2026. The maturity date of its Key Facility is June 22, 2026, and the maturity date of its NY Life facility is June 2028. The 2019 asset-backed Notes mature on September 15, 2027, and the 2022 Notes mature on November 15, 2030.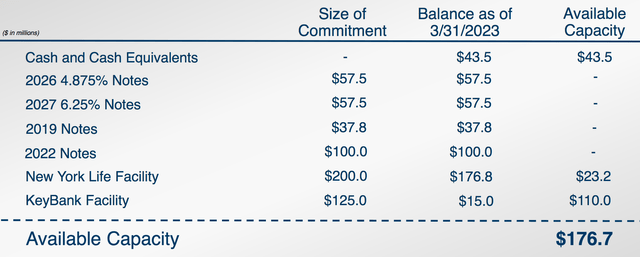 HRZN has an ATM program, through which it raised $7M in Q1 '23.
Performance:
HRZN has outperformed the BDC industry and the financial sector over the past month, quarter, year, and so far in 2023. It has outperformed the S&P 500 over the past month and quarter, and has a slightly higher one-year total return.

Looking back over the past five years, HRZN has delivered 78% total return, vs. 36% for the ETRACS BDC Index.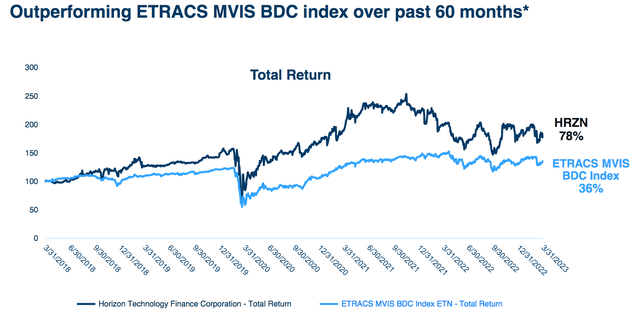 Analysts' Targets:
At its 7/13/23 intraday price of $12.99, HRZN was 8.5% above street analysts' average price target of $11.97, and ~19% below the $16.00 highest price target.

Valuations:
At $12.99, HRZN is getting a 14.55% premium valuation to its 3/31/23 NAV of $11.34, vs. the BDC industry average valuation of -4%. On the earnings side, however, it does have a lower valuation, with a price/NII of 7.83X, vs. the 9.04X industry average. HRZN is in the lower tier of market caps in its industry, and has a somewhat lower yield.

Parting Thoughts:
With its 12% rise over the past quarter, HRZN looks overbought on its stochastics chart. We advise putting it on your watchlist, and waiting for a pullback that could get you an entry price closer to its NAV/share.
All tables furnished by Hidden Dividend Stocks Plus, unless otherwise noted.