The world favored the one who dared to think differently.
Till the 2000s, no one thought the massive internet wave would sweep the 21st century.  Things have been no different for branders and marketers, who sought online channels, like websites, to connect with their targeted prospects. 
A brand's website is the go-to destination for the entire consumer market. When built using an apt website marketing strategy, it validates your products and spikes consumer interest. While standard BTL advertisements work,  there is always a need for an online presence. Consumers expect B2C-like assistance from even B2B vendors, which throws the entire marketing gambit for a toss.
The foundational block of a great website is a team of a talented workforce. Content writers, marketers, designers, and advertisers unite and brainstorm. In association with a great team, a great landing page builder with drag-and-drop elements can get your website up and running in no time!
Let's break down exactly how to go about getting your website out into the world.
What is a website marketing strategy?
A website marketing strategy is a planned framework for a brand in the online marketplace. It is an amalgamation of ads, product content, videos, images, and other resources to nudge prospects in the right direction. It represents the brand's core proposition and mission to create a stir in the existing market. 
Website marketing strategies are planned to drive a brand to success. It is used to increase organic traffic coming back to the brand's website, decrease sales objections, and push customers down the funnel all the way to the final deal.
Deciding what goes into a website marketing strategy requires cross-communication between marketing and product teams. The better you understand the reason behind your product's existence, the better you will activate the brand for your ideal target group. No doubt, you can run paid marketing website campaign and better your return on ad spending ( ROAS), but even today, nothing beats creativity.
How to create a website marketing strategy
Selecting the right website marketing strategy isn't limited to tangible resources, content, and design of your website. It requires you to understand your prospective market size, product fit, and business model in detail. Once you have perspicacity for what your business does, you can develop a better framework.
Gather your teams and walk them through the parameters of the right website marketing strategy.
Be well-versed with all your company products:

Go neck-deep into your company research. Connect with team stakeholders across departments like research and development, quality assurance, data engineering, and product management to understand product approvals, updates, project sprints, and add-ons or integrations your product has recently received. 

Guide your users:

Take your website experience up a notch by guiding your user at every step of their journey. If they are looking for a few quick reads, lead them to downloadable resources. Keep a navigational tab at the extremetop of your website with sub-menus like blogs, testimonials, our products, events and gatherings, and so on. 

Make it interactive: 

Suit your brand's design, colors, and logo standards while developing the back end of your website. Follow the company protocols and do not go all out on colors, extravagant fonts, themes, or background gradients. Decide on a stout website structure, section headers, images, and description of features. Add interactive visuals where you see an opportunity. 
Cater to search queries: 

Keep your web content tailored to the user's intent and Google's search query rater guidelines. Don't duck from your core product differentiators. Highlight them through testimonials, success stories, and vision and mission. Frame your website as a problem-solution approach and shed light on burning industry problems. 

Personalize your website: Add your creative spin to the traditional layout of a website. Use an audience analysis tool to gauge the frequently typed keywords to arrange your website content accordingly.  Give personalized suggestions to your target audience and lead them to a cleaner, crisper user interface.
Gain a competitive edge: Always be one step ahead of your competitors on the SERP. But at the same time, don't portray your website as a plagiarized content source. Seek inspiration, and then take a plunge into a world unknown. Unique content always bewitches people as they get to access different options.  

Give author credits:

Discrepant author details may result in second-guessing your business's credibility. Give enough credit to your writers who create content for your website or engage in guest posting or ghostwriting strategy. Dedicate an "experts column" on each contributed blog or ebook that goes onto your website. No piece of your website content should go unnamed and uncredited. 

Lead with PPC: 

Sponsorships can bring a huge chunk of paid traffic to your domain. Whether you launched a new product or have a webinar on the cards, promoting it via sponsored Google ads or Facebook ads makes you a community creator. Bidding on trending keywords can fetch you more website visits, and registrations, which increases the scope of conversions. 
8 best website marketing strategies to convert prospects
You can have the most amazing website in the world, with crystal clear graphics and a fast load time, but that doesn't mean anything if no one knows about it. Make sure the public sees your website with these eight strategies.
1. Write original content
If I've said it once, I've said it a hundred times. Content is King. Your website needs to offer free, unique, and competitive content that brings in visitors and ranks well while also setting you apart from the competition. Whether you start a blog or contribute to a guest blog, it's a great way to get traffic to your website and increase the name recognition of your business and its brand.
If you choose to guest blog, include a link to your website, either in the copy or in your biography at the end of the post, to ensure to draw in visitors from a new source.
2. Share updates on social media
Gone are the days when social media is just for your friends to show off pictures of their vacation or their newborn baby. Over 3 billion people are using social media, and that number grows each year. Don't miss out on an opportunity to convert those people into your customers.
Whether posting on Twitter, Facebook, Instagram, YouTube, Snapchat, LinkedIn, or a combination, posting great content is a great way to build your community. Remember that your audience on Twitter is going to be different than LinkedIn, so your advertisements and posts should reflect that difference. And, of course, don't forget about including hashtags.
Did you know? 78 percent of businesses have dedicated teams for managing their social media.
If you haven't already, ensure that your website clearly displays social media icons on the navigation bar so visitors can easily find you on all platforms.
3. Take advantage of email marketing
One of the best ways you can reach your customers is through email marketing. It's important that you take this form of marketing seriously, as it top's the inboxes of prospective customers. 
For instance, don't count out the power of a good subject line. In fact, 35 percent of recipients open emails based on the subject line. Your email newsletter needs to set you apart from the rest so your customers not only open the email you're sending but also engage further by clicking through to your website.
Make your content something that stands out, make your CTAs prominent and easy to click on, and make your tone urgent (but not too urgent). These emails should be as personalized as possible and offer valuable promotions. If you need help sending the perfect message to your customers, invest in the right solution like Unbounce or Mailchimp with free email credits to help you step up your email game.
4. Utilize SEO
Follow the best-in-class practices to increase the reader's experience and appeal. Mark cumulative shifts of content in a way that doesn't seem overwhelming. Embed anchor texts on complex topics that lead the user on a dedicated blog post. Make sure Google doesn't crawl on foreign domains. Include a "robot txt." and "XML sitemap" to increase the ranking streak of your website. Rake up a good number of primary and secondary organic keywords, but at the same time, do not stuff your website. Unlike SEM (Search Engine Marketing), utilizing SEO is free, making it an opportunity you can't pass up.
Tip: Learn more about the difference between SEO and SEM and why they are important to your marketing strategy.
There are a lot of factors that go into SEO, from keywords to alt tags, page speed, load time, meta tags, RSS feed, keyword canonicalization, competitive analysis, and header formatting, no element should be overlooked.
5. Invest in PPC Ads
PPC ads (pay-per-click) are when you use internet advertising to bring traffic to your website from search engines like Google. Essentially, you pay a fixed price for every click your ad gets on the search engine results page, with the goal of maximum conversions.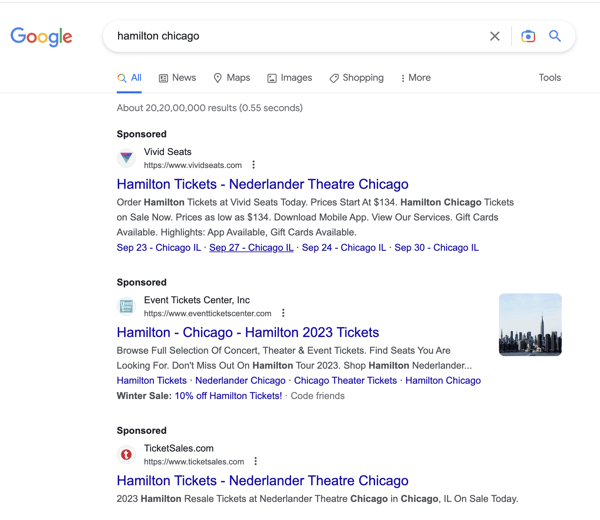 If you choose to use Google AdWords, there is no spending requirement, so that you can set your price to as little as $5 a month or as grand as $5,000 a month. No matter your budget, you need to aim for at least twice the amount of lead acquisition as your investment to receive the best ROI. Your ad, the offer, and the landing page the ad leads to must all work towards the same goal – converting customers.
Tip: Check out the 4 ways to enhance your PPC system with artificial intelligence!
Consider the keywords and phrases a user would search for, target those within your ads, and then the search engine will help get your ad in front of your target market.
6. Create a Google My Business page
If your business isn't taking advantage of sharing its information on a free Google My Business page, now is the time to do so.
This is where your customers can find not only a link to your website but also your business address, phone number, hours, Google reviews, and more. You should also register on Google's business directory for even more visibility on the search results page.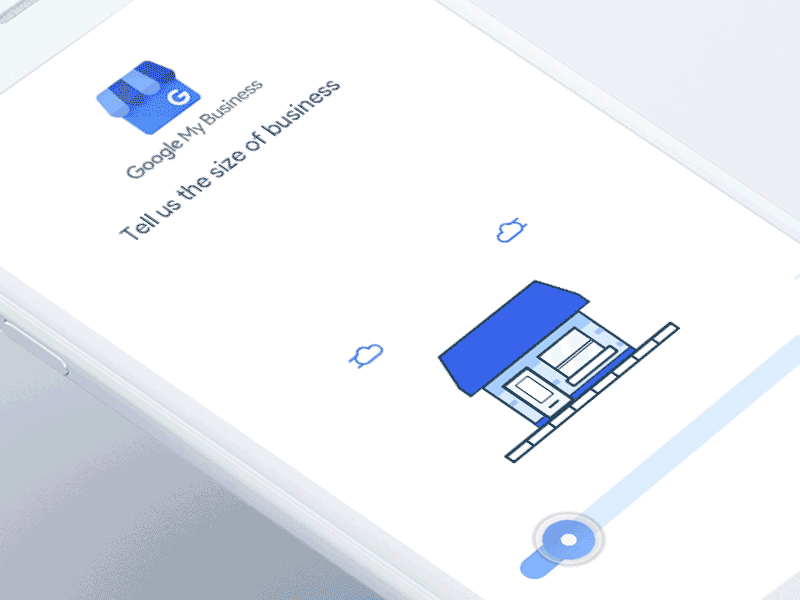 Source: dribble
7. Cohesive branding
Your brand, the color scheme, and the type of logo are all ways people recognize your company. Invest some time (and money) to work on making your brand easy to recognize and eye-catching enough to grab anyone's attention.
Think of ways you can better incorporate these elements of your brand. Maybe you can revamp email signatures or create a banner to use on social media. Regardless, make sure your branding is the same no matter if a user is viewing your website on a desktop, mobile, or on a social media platform. Be synonymous with brand colors, sans-serif font, and primary call to action, and harmonize them in a way that appeals to the user.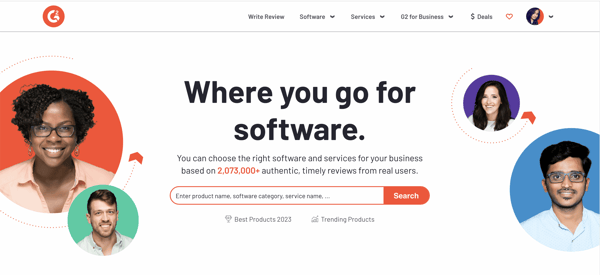 8. Word of mouth
When you're looking for a new nail salon or barber, you ask your friends or people you trust. Or maybe an online resource to discover the best-rated and highest-reviewed options. Don't forget about these sources that drive traffic to your website.
Build these connections and relationships, whether it be face-to-face or through social media, as a way to gain positive reviews and recommendations. A robust word of mouth gets you known among your low-hanging prospects, who go by others' experiences. Sharing of customer experiences can rake up more organic traffic, increase visibility and make you a success story. 
Put your customers first
Whether your business just launched or you're already a household name, building a continuous relationship with brand cohorts is important. People look up to your brand and keep tabs on new products that hit your website. Be wary of what you put at your reader's or consumer's disposal. Don't just engage in marketing full tosses, but try to bring value and sustainability to the table.
Your website is up and live. Now what? Ensure you never lose sight of your branding initiatives and be a top consumer choice by tracking website KPIs.
This article was originally published in 2019. The content has been updated with new information.