Your business is more than a pot of gold. Dig deep and you'll unveil your true value as a self-made millionaire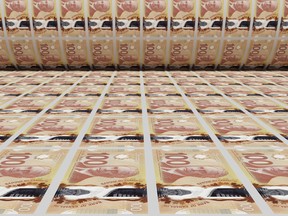 Reviews and recommendations are unbiased and products are independently selected. Postmedia may earn an affiliate commission from purchases made through links on this page.
Article content
By Colleen O'Connell-Campbell
How clearly do you see the value of your business? Are you guilty of overlooking its worth, deeming it as insignificant as a bag of tarnished pennies? Granted, pennies might be obsolete as currency here in Canada, but they do serve as a clear metaphor for the underrated value we often attribute to our business endeavours, particularly if you are a solopreneur.
Article content
Solopreneurs, as the name suggests, are "a company of one" entrepreneurs at different stages of their journey: from the nascent startup to the established side hustle. They could also be creators and freelancers in the gig economy, relishing the flexibility that enables them to nurture young families or play the role of caregiver to elders. Too often, this category is overlooked, perhaps even dismissed as "lifestyle businesses." However, the economic impact of these solopreneurs is far from insignificant.
Small and medium-sized enterprises (SMEs) and sole proprietorships form the backbone of the Canadian economy, accounting for an overwhelming majority of businesses in the country, according to a Women Entrepreneurship Knowledge Hub (WEKH) study, The State of Women's Entrepreneurship in Canada 2022. It's worth noting that the number of self-employed women, or solopreneurs, is growing at a pace outstripping that of men.
As of December 2020, women were the majority owners of approximately 16.8 per cent of SMEs in Canada. Despite their considerable contributions to this country's socio-economic fabric, barriers persist that tend to undermine the efforts of these women entrepreneurs. It seems to me that the solopreneur is far too often underrated and lives in the shadow of trendy tech businesses.
Article content
Are you buying into that narrative by discounting the value of what you are creating? If so, stop, and recognize the opportunities in front of you. Here are some ways to start:
* Create a business structure that distinctly separates your personal assets and liabilities from your business assets and liabilities, even if you operate as a sole proprietorship.
* Seek and secure business capital under your company's name as soon as you can. Even if you don't need it.
* Be ready to transition from a sole proprietorship to a corporate structure when the time is right.
* Prioritize cash flow and profitability over revenue. I often say: "Revenue is vanity. Profit is sanity. And cash flow is sovereignty."
* Perhaps the most important thing you can do for your business early in your journey is to strategically plan for a cash-rich exit. This could mean consistently paying yourself a substantial income to set aside savings in a registered retirement savings plan, tax-free savings account or an investment property.
Related Stories
How to pay less tax if you're an incorporated business owner

Woman with $3.77 million in investments needs balance

Tax the rich? It would be better to improve the whole taxation system
Article content
Furthermore, if you're an incorporated business owner, ensure you're sufficiently compensating yourself to establish an individual pension plan that will support you after you exit your business. Consistently grow your business to a level where it becomes an attractive proposition for potential buyers.
Your business is more than a pot of gold; it's a veritable gold mine brimming with untapped value. Dig deep and you'll unveil your true value as a self-made millionaire.
Colleen O'Connell-Campbell is a wealth adviser at RBC Dominion Securities Inc. and creator of the I'm a Millionaire. So, now what? podcast.